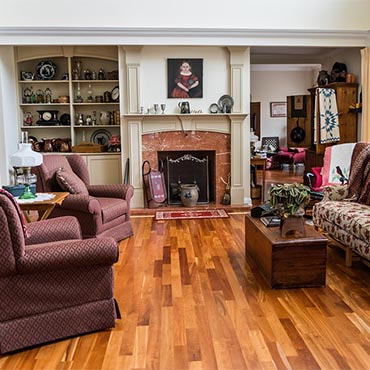 Wood flooring is a timeless and classic choice for any home. Not only is it beautiful, but it is also durable and can add
value
to your property. With so many options available, it can be overwhelming to choose the perfect wood flooring for your space. In this article, we will explore the different types of wood flooring and accessories, as well as offer tips for choosing the right style for your home.
Engineered Wood Flooring:
Engineered wood flooring is made up of multiple layers of wood and is designed to withstand high levels of foot traffic. The top layer is made of real wood, giving it the same look and feel as solid hardwood flooring. However, the core layers are typically made of plywood or high-density fiberboard, making it more stable and resistant to moisture.
Solid Hardwood Flooring:
Solid hardwood flooring is made of a single piece of wood and is the most traditional type of wood flooring. It can come in various species of wood, such as oak, maple, or walnut, and can be finished with different stains to achieve a desired color. Solid hardwood is known for its durability and can last for decades with proper maintenance.
Specialty Wood Flooring:
Specialty wood flooring is a category that includes exotic woods, reclaimed woods, and distressed woods. Exotic woods come from trees that are not native to North America and can have unique colors and grain patterns. Reclaimed wood flooring is made from salvaged wood, giving it a unique history and character. Distressed wood flooring has a worn and aged appearance, giving it a rustic and charming look.
Wood Flooring Accessories:
Wood flooring accessories include items such as trim, molding, and transitions. These accessories are important for creating a finished and cohesive look throughout your home. Trim and molding can be used to cover gaps and transitions between flooring and walls, while transitions can be used to smoothly connect different types of flooring in your home.
Choosing the Right Wood Flooring:
When choosing the right wood flooring for your home, it's important to consider the style of your space, your budget, and your lifestyle. For example, if you have pets or young children, you may want to consider a more durable and scratch-resistant option like engineered wood flooring. If you have a traditional or classic style home, solid hardwood flooring may be the best choice. For a more unique and eclectic look, specialty wood flooring can add character and charm to your space.
In conclusion, wood flooring is a beautiful and durable choice for any home. With so many options available, it's important to do your research and choose the right type of flooring and accessories for your space. By considering your style, budget, and lifestyle, you can find the perfect wood flooring to enhance the beauty and value of your home.