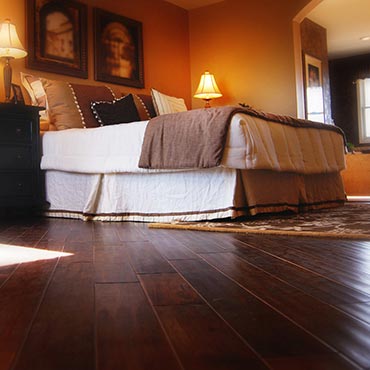 Flooring is a term used to describe any material that is used to cover a floor permanently. It can be made of various materials and comes in many different styles and designs to suit different tastes and preferences. In general, the purpose of flooring is to provide a smooth, even surface that can withstand
foot traffic
and other forms of
wear and tear
.
The history of flooring dates back to ancient times when people used materials such as dirt, straw, and wood to cover their floors. Over time, flooring materials became more sophisticated, with stone and tile becoming popular choices for high-end homes and public buildings. In the 20th century, new materials such as vinyl, carpet, and laminate emerged, providing homeowners with more affordable and easy-to-install options.
Today, there are many different types of flooring materials available, each with its own advantages and disadvantages. Some of the most popular types of flooring include:
Carpet - Carpet is a soft, comfortable flooring option that is popular in bedrooms and other areas where comfort is a priority. It is available in a wide range of colors and styles, making it easy to find a carpet that matches your decor. However, it can be difficult to clean and may not be the best choice for high-traffic areas.
Wood - Wood flooring is a classic choice that adds warmth and character to any room. It comes in many different types of wood, including oak, maple, and cherry, and can be finished in a variety of colors and styles. Wood flooring is durable and can last for many years with proper care, but it can be expensive and may be prone to scratches and dents.
Laminate - Laminate flooring is a popular choice for those who want the look of wood or tile without the high cost. It is made of layers of material that are bonded together, creating a durable and easy-to-clean surface. Laminate flooring is available in many different colors and styles, making it a versatile choice for any home.
Tile - Tile flooring is a durable and easy-to-clean option that is popular in bathrooms and kitchens. It is available in many different materials, including ceramic, porcelain, and stone, and can be finished in a variety of colors and patterns. Tile flooring is resistant to water and stains, making it a practical choice for areas where spills and moisture are a concern.
Vinyl - Vinyl flooring is a versatile and affordable option that is popular in many homes. It is available in many different colors and styles, including wood and tile looks, and can be installed easily over existing flooring. Vinyl flooring is durable and easy to clean, but it may not be as long-lasting as other options.
Flooring is an essential part of any home or building, providing a durable and attractive surface for foot traffic and other forms of wear and tear. There are many different types of flooring materials available, each with its own advantages and disadvantages. When choosing a flooring material, it is important to consider factors such as cost, durability, and ease of maintenance to ensure that you select the best option for your needs.
As a shopper looking for new flooring, you may be drawn to the unique aesthetic of hardwood flooring. Each piece of wood is different, creating a one-of-a-kind look in your home. Additionally, hardwood flooring is known for its durability and toughness, although it can be susceptible to scratches.
One thing to keep in mind when considering hardwood flooring is that wood is hygroscopic, meaning it acts like a sponge and can absorb moisture. Therefore, it may not be the best option for rooms that are exposed to humidity or moisture. However, there are treatments available to make wood more resistant to moisture.
When it comes to wood flooring, there are two main types to choose from: solid wood and engineered wood. Solid wood is made from a single piece of wood, typically 18-20mm thick, and is often fitted using a tongue-and-groove method. Engineered wood, on the other hand, has a thin solid wood veneer on top with a composite core. Each board consists of several laminated wood layers, held together at right angles by glue, creating a plank around 14mm thick. Engineered wood can be a less expensive option than solid wood, but it cannot be sanded and refinished.
When it comes to finishing wood flooring, there are several options available, including wax, oil, or lacquer. You can also choose from many different wood species, with hardwoods typically being more durable than softwoods. Reclaimed lumber is another unique option for those interested in green building practices.
If you're looking for a more eco-friendly flooring option, bamboo flooring is a great choice. Although technically not wood, bamboo is a grass that is compressed and manufactured into a floor. It is durable, water-resistant, and renewable, making it an environmentally conscious option. Bamboo flooring is available in a variety of patterns, textures, and colors, and can be installed using tongue and groove, click fitting, or parquet block methods.
Cork flooring is another eco-friendly option, made from cork trees. The bark is stripped every eight to ten years, without harming the tree. Cork flooring is water-resistant and available in tiles and planks, and can be installed glued or glue-less. It is warm, flexible, and excellent for soundproofing and heat retention, but can be easily damaged by sharp objects.
Before making a decision on flooring, it's important to consider the Janka scale, which ranks the durability and hardness of hardwood. The higher the PSI required to embed a steel ball into the wood, the harder and more durable the wood. Cork is naturally soft, with a Janka hardness of around 200, making it much less durable than strand woven bamboo.
Are you looking for an affordable flooring option that looks just like hardwood, ceramic tile, or stone without the high price tag and maintenance? Look no further than laminate flooring!
Laminate flooring is made of compressed fiberboard planks that are covered with an image and a transparent protective coating. This gives the flooring a realistic look of natural materials, but without the risks of scratching or wear and tear. Plus, it's much more budget-friendly than traditional hardwood flooring.
The durability of laminate flooring is impressive, with some high-quality options offering a 20-year warranty. They are also incredibly low maintenance, making them perfect for busy homeowners who want the look of natural materials without the upkeep.
Installation of laminate flooring is quick and easy, thanks to its interlocking design. This means that it can be installed on various sub-floors without the need for glue or nails. Plus, it's even compatible with under-floor heating systems, making it perfect for those chilly winter mornings.
One of the best things about laminate flooring is the vast array of patterns and styles available. You can choose from realistic wood grains, ceramic tiles, and even natural stone looks. The possibilities are endless, and you can find a style that suits your home and personal taste.
Laminate flooring is also an environmentally friendly option, as it's made from renewable resources and doesn't require the harvesting of hardwood trees. Plus, it's easy to clean and hypoallergenic, making it an excellent choice for families with children and pets.
In summary, laminate flooring is an affordable, durable, and versatile flooring option that offers the aesthetic appeal of natural materials without the high cost and maintenance. With its easy installation process, vast range of styles, and environmental benefits, it's the perfect choice for anyone looking to upgrade their home's flooring.
If you're looking to give your home a fresh new look, consider upgrading your flooring with hard surface options. Hard surface flooring is a family of flooring that includes options like ceramic tile, natural stone, and concrete or cement.
Ceramic tile is a popular option that comes in many colors, textures, shapes, and finishes. Porcelain tile is a type of ceramic tile that is thicker and more durable, making it perfect for high traffic areas. It's available in large squares that measure 24 inches, which means it's easy to cover a lot of ground quickly.
Natural stone tile is a bit more expensive than ceramic tile, but it's well worth it if you're looking for a unique and aesthetically pleasing option. Travertine, limestone, and granite tile are popular types of natural stone that add a touch of luxury to any room. Just make sure to have them sealed when they're installed to protect them.
If you're looking for an easy-to-install option, consider modular tile flooring. These tiles are produced to precise dimensions and come with an interlocking base, which means you don't need to use any mortar or adhesive. Plus, they're reusable and cost-effective compared to traditional tile installation methods.
Concrete or cement flooring is another option that can add an industrial, modern feel to your home. Polished concrete is a popular finish that's both durable and aesthetically pleasing. And if you have existing concrete floors that need an upgrade, consider using epoxy to resurface them.
No matter what type of hard surface flooring you choose, it's sure to give your home an updated and stylish look. So why wait? Start shopping today!
Are you thinking of getting new flooring for your home or office? Well, you might want to consider carpeting! It's a type of soft floor covering made up of fibers attached to a backing, and it's perfect for both high and low traffic areas.
Carpet comes in all kinds of textures, styles, and colors, so you can choose the one that best fits your taste and needs. Plus, it's pretty durable and easy to maintain. One thing to keep in mind, though, is that carpets typically last around 15 years before they need to be replaced.
When it comes to quality, you'll want to look at the carpet's face weight or how many fibers per square inch it has. The higher the face weight, the plusher and more comfortable the carpet will feel under your feet.
There are different types of carpets to choose from, like Berber, shags, frieze, and even marine carpets. Berber carpets are highly durable and can be found in offices and schools, while loop pile carpets are great for heavy foot traffic areas like hallways and stairs.
If you're looking for a carpeting alternative, you might want to consider carpet tiles, which come in various sizes, materials, fibers, patterns, and colors. They're commonly used in public and commercial buildings like airports, libraries , and schools.
When it comes to installing carpets, there are two primary methods: tackless installation and direct glue down. Tackless installation involves installing a tack strip around the perimeter of the room and stretching the carpet over it. Direct glue down involves spreading adhesive over the subfloor and rolling the carpet onto it.
Don't forget about carpet padding! It's placed underneath the carpet to add comfort and provide noise insulation. The denser the padding, the longer the carpet will last. So, if you want your carpet to be durable, go for a denser padding, but if you want it to be softer to walk on, a less dense padding might be better.
Lastly, carpet goods come in four standard widths: 6', 12', 13'6", and 15' wide. So, make sure to measure your space and pick the right width for your carpet.
Unlike ceramic and stone tiles made of rigid minerals, resilient flooring is made of materials with some elasticity. This gives the flooring a degree of flexibility called resilience. Often, performance surfaces like weight-rooms, aerobic workout areas, and indoor running tracks use resilient flooring.
Resilient flooring includes many different manufactured products, including rubber, linoleum, sheet vinyl, vinyl composition tile (VCT), and cork (sheet or tile).
Rubber Flooring
Rubber flooring is manufactured from natural or synthetic materials, including recycled rubber tires. It is categorized as a type of resilient flooring since it exhibits elasticity or "bounce." This also makes rubber tiles suitable for restaurant kitchens or other high traffic areas where foot fatigue and slippage can occur.
Rubber flooring is also becoming a popular option for domestic installations that tend to require moisture and stain resistance, sound absorption, durability, elasticity, and temperature stability. Rubber mat flooring is used for kid's rooms, bathrooms, garages, home gyms, and other applications. Outdoor rubber tiles can be used for playgrounds, patios, and more.
Linoleum Flooring
Linoleum is a traditional, smooth, seamless flooring. The name's etymology combines two Latin words: Linum (flax) and Oleum (oil). Linoleum's core ingredients are linseed oil, pine flour, pine rosin, pigments, and other components. During manufacturing, the oil is oxidized, a process that is aided by heating and which makes the oil solidify into a tough, resilient sheet.
Vinyl Flooring
Vinyl flooring looks almost identical to the more expensive options like hardwood, ceramic, marble, or stone, with an extensive range of colors and profiles. Affordable, durable, water, and scratch-resistant, vinyl floors are an excellent option for just about every interior living space. Vinyl flooring is supplied in rolls or tiles and is generally fixed by gluing.
Vinyl flooring is available in tiles or large sheets. The two main categories of vinyl floor tiles are vinyl composition (VCT) and solid vinyl. Some vinyl tiles come with a pre-applied adhesive for peel-and-stick installation.
The three main categories of vinyl sheet flooring are homogeneous, inlaid, and layered composite. Usually, sheet vinyl flooring requires adhesive to be spread onto the substrate.
Vinyl Plank Flooring
The foam core in most types of vinyl plank flooring delivers rigidity and strength. Plus, vinyl planks offer stress-free installation. Click-lock vinyl plank flooring is easily installed over existing surfaces including, wood, tile, vinyl, and concrete, with a simple tongue and groove click-together method.
Outdoor Flooring Options
If you're looking for an awesome flooring option for your outdoor space, vinyl flooring might just be what you're looking for! This type of flooring is perfect for enclosed porches, sunrooms, or any other outdoor area where you can control the temperature.
The best thing about vinyl flooring is that it's totally waterproof, so you don't have to worry about any liquid spills ruining your floors. And let's be real, spills happen all the time, especially when you're enjoying the great outdoors.
However, you do need to be careful with extreme temperature changes. If your vinyl flooring gets too hot or too cold, it could crack or swell. So just make sure you're keeping an eye on the temperature to avoid any potential damage.
Overall, vinyl flooring is a great choice for any outdoor space where you want to have stylish and functional floors that can handle whatever life throws at them. So why not give it a try and see for yourself how awesome it can be!
Seamless Polymer Flooring
If you're looking for a durable and easy-to-clean flooring solution, seamless flooring may be just what you need. This type of flooring is ideal for commercial and industrial settings where high traffic and spills are common.
Seamless flooring is available in a variety of materials, including reactive thermoset resins, waterborne solvents, air drying latex emulsion polymers, and solvent-free urethanes and epoxy flooring. These materials are applied in liquid form, allowing them to spread seamlessly across surfaces and provide a completely smooth and seamless finish.
One of the primary benefits of seamless flooring is its durability. This flooring option is resistant to chemicals and impact, making it perfect for environments where spills and heavy traffic are common. Additionally, seamless floors can be customized to fit your specific needs. For example, rubberized or granular particles can be added to improve traction and slip-resistance, making them ideal for walkways, steps, and traffic aisles.
Seamless flooring also offers a range of aesthetic benefits. Whether you're looking to create a sleek and modern look or a more traditional style, there's a seamless flooring option that can meet your needs. And because seamless flooring is available in a range of colors and textures, you can easily find a style that complements your existing decor.
Overall, if you're looking for a durable, easy-to-clean flooring option that can stand up to high traffic and spills, seamless flooring is an excellent choice. With its range of customization options and aesthetic benefits, it's sure to meet your needs and exceed your expectations.
Sustainable flooring
If you're a conscious shopper looking for sustainable flooring options, you're in luck! Today, more than ever, flooring manufacturers are committed to providing eco-friendly flooring solutions that are not only stylish but also environmentally responsible.
One option to consider is wool carpet. Not only is it naturally sourced, but it's also incredibly durable and can withstand heavy foot traffic. Wool carpet is also a great option for individuals with allergies or sensitivities as it's hypoallergenic and naturally resistant to bacteria and dust mites.
Bamboo flooring is another sustainable option to consider. It's made from a rapidly renewable resource and is incredibly strong and durable. It's also naturally resistant to moisture, making it an excellent option for areas prone to spills and water damage.
If you're looking for a classic and timeless option, hardwood floors are always a great choice. Look for engineered or solid hardwood floors that are sustainably harvested, meaning they're sourced in a way that doesn't harm the environment. You can find a variety of options that are not only environmentally friendly but also offer a range of colors and finishes to match any style.
Cork flooring is another eco-friendly option to consider. It's moisture-resistant, durable, and made from renewable sources. It's also a great choice for those who want a softer feel underfoot, as it has natural shock-absorbing properties.
Finally, consider natural linoleum for your flooring needs. It's highly durable, anti-microbial, and easy to maintain. Plus, it's made from natural and renewable materials like linseed oil and wood flour.
Overall, when shopping for sustainable flooring, it's essential to consider factors such as material sourcing, manufacturing processes, and environmental impact. By choosing eco-friendly flooring options, you'll not only be making a conscious choice for the planet but also creating a healthier living space for you and your family.