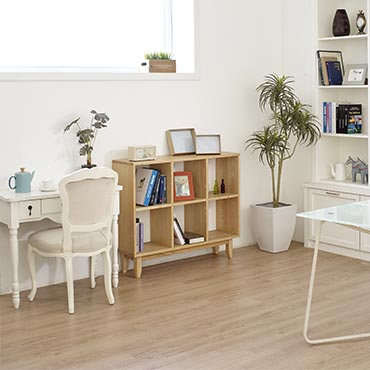 Don't confuse luxury vinyl with
sheet vinyl
.
Luxury Vinyl Tile
(
LVT
) and
Luxury Vinyl Plank
(LVP) are two of the hottest flooring trends right now. It is a recent innovation made of several layers of
resilient
PVC. Usually, the top layer is coated with
urethane
, which helps protect the wear layer from scuffs, scratches, and staining. The photographic layer is versatile and can portray many natural materials like stone,
granite
, and wood. Advances in production allow more detailed textures besides just smooth and shiny, departing from its "plastic" look of your parent's generation.
What styles are available in luxury vinyl flooring?
Luxury vinyl comes in everything from traditional, rustic, and exotic hardwood planks to natural stone tiles like travertine or marble-mimicking tiles. There are even modern industrial designs inspired by concrete or petrified wood. With so many options available, it's easy to find a style for any room.
Where can luxury vinyl be installed?
LVT is an excellent choice for bathrooms, kitchens, basements, and laundry rooms. However, it can be installed anywhere in your home or office. There are even options available that allow you to install over sub-floors with minor irregularities easily.
How durable is luxury vinyl flooring?
Luxury vinyl is hard-wearing and easy to clean. It's also water-resistant, so the vinyl won't swell, buckle, or lose integrity when exposed to water. And while all LVT products are scratch, stain, and wear-resistant, various manufacturers offer different performance levels. Some manufacturers provide superior scratch-and-stain resistance, making them tough enough to be backed by a lifetime warranty. The best types of luxury vinyl tile or planks are generally smooth, making spills easy to clean and don't give dust a place to hide.
Is Luxury Vinyl Flooring Pet-Friendly?
Since luxury vinyl is generally waterproof, house training dogs or cats isn't as stressful. Scratch-resistant surfaces make pet nail damage worry-free. Pet hair and dander can be effortlessly swept or vacuumed away. Cleaning vinyl requires a light vacuum, consistent sweeping, and the occasional deep clean.
DIY Installation
Luxury vinyl has DIY installation potential. Many varieties can easily be install over an existing floor without nails or glue. A thin underlayment can help reduce noise and keep floors warmer in the winter. The click-and-lock feature makes seams tight and secure. A peel and stick luxury vinyl can adhere directly onto a smooth surface. Or you can also choose to install LVT or LVP over a subfloor and secure them with glue.