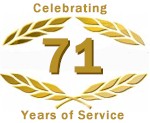 Sackett's Flooring Solutions
Sackett's Flooring Solutions
4015 Portage Road
Kalamazoo
,
MI
49001
269-342-2878

0 miles from kalamazoo, MI
---
---
About:
For 63 years, Sackett's Flooring Solutions (Previously known as Sackett's Carpet) has maintained its reputation as the flooring store people trust the most.
Flooring:
Adhesives, Area Rugs, Carpeting, Ceramic Tile, Porcelain Tile, Cleaning and Restoration, Carpet Cushion and Padding, Fibers and Backing, Installation Materials, Laminate Flooring, Lighting and Fans, LVT and LVP, Natural Stone Floors, Specialty Floors, Underlayment, Vinyl Flooring, Resilient Floors, Wood Flooring, Hardwood Flooring, and more.
Major Brands:
Shaw Carpet, Armstrong Sheet Vinyl Floors, Armstrong Laminate Flooring, Johnsonite® Commerical Flooring, Viking Hardwood Flooring, Kathy Ireland™ Rugs, Bruce Hardwood Flooring, Host® Cleaner, Mohawk Carpet, Shaw Laminate Flooring, STAINMASTER® Carpet, Shaw Tile Flooring, Shaw Hardwoods Flooring, Aqua Mix Tile & Stone Care, 828 Rugs, Scottdel Cushion
Commercial Buildings:
college, university, elementary, middle, high school, preschool, daycare, courthouses, fire stations, government offices, police stations, post office, dormitory, fraternity, sorority, hotels, nursing home, assisted living, residential care, retirement homes, shelters, orphanages, children's homes, bank, bowling alleys, broadcasting studio, convention centers, funeral home, health clubs, library, meeting halls, theaters, cinemas, clinic, dentist's offices, doctor's offices, hospital, administrative offices, professional offices, restaurants, car dealership, showroom, clothing stores, furniture stores, hardware stores, laundromat, rental stores
---
Why Us:
Locally Owned and Operated, Expert Advise, Professional Staff, Courteous; Reliable Service, Staffed Showroom, Convenient Location, Fully Licensed & Insured, Reasonable Prices, Customer Service, Hundreds of Colors & Styles, Huge Inventory, Financing Available, Great Selection, Environmentally Safe Products, Our Warranty, Great Selection, and more...
Flooring Stores Nearby:
---
Portage, MI
(5 mi.)
Galesburg, MI
(6 mi.)
Kalamazoo, MI
(7 mi.)
Richland, MI
(8 mi.)
Scotts, MI
(8 mi.)
Climax, MI
(10 mi.)
Vicksburg, MI
(11 mi.)
Augusta, MI
(11 mi.)
Schoolcraft, MI
(12 mi.)
Mattawan, MI
(12 mi.)
Plainwell, MI
(13 mi.)
Hickory Corners, MI
(13 mi.)
Otsego, MI
(15 mi.)
Fulton, MI
(15 mi.)
East Leroy, MI
(16 mi.)
Lawton, MI
(17 mi.)
Battle Creek, MI
(17 mi.)
Gobles, MI
(17 mi.)
Delton, MI
(18 mi.)
Martin, MI
(18 mi.)
Paw Paw, MI
(18 mi.)
Mendon, MI
(19 mi.)
Leonidas, MI
(19 mi.)
Athens, MI
(20 mi.)
Three Rivers, MI
(21 mi.)
Dowling, MI
(22 mi.)
Shelbyville, MI
(22 mi.)
Bloomingdale, MI
(22 mi.)
Ceresco, MI
(23 mi.)
Marcellus, MI
(23 mi.)
Centreville, MI
(24 mi.)
Allegan, MI
(24 mi.)
Sherwood, MI
(24 mi.)
Colon, MI
(24 mi.)
Burlington, MI
(25 mi.)
Decatur, MI
(25 mi.)