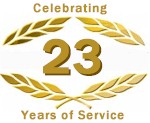 Magic Carpet Flooring
Magic Carpet Flooring, LLC has over 20 years of experience in the floor covering business, providing Danville, Lexington and surrounding area residents, homebuilders, and contractors with friendly, professional service and in-depth knowledge. Serving Danville, KY since 1996
Magic Carpet Flooring
60 Westridge Drive
,
KY
40422
Tel:859-238-7100
Fax:859-238-9986
Toll Free:1-888-274-6119
Contacts:
Brian Zajkowski
---
Wednesday: 9:00am - 5:00pm
---
About:
Let us bring our showroom to youFree Estimates! Our professionals are prepared to accommodate your carpet, tile or hardwood floor needs. We provide a wide array of samples for you to choose from.
---
Types Of Flooring We Carry:
Flooring Accessories, Adhesives, Athletic Surfaces, Carpeting, Ceramic and Porcelain, Equipment, Installation Materials, Laminate Flooring, Natural Stone Floors, Vinyl and Resilient, Cleaning and Restoration, Area Rugs, Specialty Floors, Paver and Quarry, Tools, Sealers and Finishes, Underlayment, Cushion and Padding, Wood Flooring, Fibers and Backing, Mats and Runners, Countertop and Surfaces, LVT and LVP, Walls
---
Magic Carpet Flooring offers the following flooring brands:
---
Magic Carpet Flooring offers the following products:
---

Flooring Accessories

Air Vents / Registers
Carpet Accessories
Ceramic Accessories
Flooring Accessories
Flooring Tools
Furniture Slides
Laminate Accessories
Moulding (laminate)
Moulding (wood)
Resilient Accessories
Rug Accessories
Shower/Pans/Liners/Drains
Stair Rods
Stair Treads/Nosing (metal)
Stair Treads/Nosing (rubber)
Stair Treads/Nosing (vinyl)
Stone Accessories
Tile Trims
Trim (rubber)
Trim (vinyl)
Underfloor Heating
Wood Accessories

---

Adhesives

Adhesive Remover Chemicals
Adhesives
Below-Grade Adhesives
Carpet Adhesives
Ceramic Tile Adhesives
Ceramic Tile Exterior
Cove Base Adhesives
Cushion-Back Carpet Adhesives
Double Glue Cushion Adhesives
Dry Adhesives
Epoxy Adhesives
Indoor/Outdoor Carpet Adhesives
Laminate Floor Adhesives
Linoleum Adhesives
Marble Tile Adhesives
Multi-Purpose Adhesives
Pad Adhesives
Releasable (Pressure Sensitive)
Resilient Floors Adhesives
Rubber Flooring Adhesives
Seam Adhesives
Stair Tread & Nosing Adhesives
Tackless Strip Adhesives
Wood Adhesives

---

Athletic Surfaces

Athletic Surfaces

---

Carpeting

Berber Carpet
Carpet Base
Carpeting
Children/Juvenile Carpet
Commercial (tufted)
Commercial (woven)
Commercial Carpet
Commercial Cut Pile
Commercial Cut Pile (pattern)
Commercial Cut Pile (texture)
Commercial Cut/Uncut
Commercial Cut/Uncut (pattern)
Commercial Cut/Uncut (texture)
Commercial Loop Pile
Commercial Loop Pile (pattern)
Commercial Loop Pile (texture)
Commercial Printed Carpet
Cushion Back Carpeting
Custom Carpet
Indoor/Outdoor Carpet
Modular Carpet Tile
Patterned Carpet
Recycled
Saxony (plush)
Saxony (textured)
Sculptured/Cut & Loop
Shag Carpet
Spike Resistant Carpet
Synthetic Turf
Vinyl Backed (6 FT)
Wool Carpets

---

Ceramic/Porcelain

Bathroom Tile
Borders/Medallions
Ceramic Tile
Custom Tiles
Decorative Tile
Floor Tile (glazed)
Floor Tile (unglazed)
Hard Surface / Tile / Stone
Kitchen Tile
Mexican Tile (Saltillo)
Mosaic Tile
Mosaic Tile (glass)
Mosaic Tile (glazed)
Mosaic Tile (unglazed)
Murals
Porcelain Tile
Spa / Pool Tile
Terra Cotta Floor Tile

---

Equipment

Cleaning Equipment (carpet)
Cleaning Equipment (extraction system)
Cutting Equipment (carpet)
Cutting Equipment (ceramic tile)
Cutting Equipment (sheet vinyl)
Floor Removal Equipment

---

Installation Materials

Additives (latex)
Additives (mortar)
Additives (thin set)
Caulks
Grouts (additives)
Grouts (ceramic tile)
Grouts (granite)
Grouts (latex)
Grouts (marble)
Grouts (quarry tile)
Grouts (release)
Grouts (sealers)
Grouts (slate)
Installation Materials
Mortars
Mortars (thin set)
Seam Sealers
Seaming Tapes (hot melt)
Tackless Carpet Strip
Tile Setting Materials
Tile Spacers & Templates
Wood Fillers/Patches

---

Laminate Flooring

Laminate Flooring
Laminate Flooring Planks
Laminate Flooring Tile
PVC Waterproof Laminate

---

Natural Stone Floors

Cultured/Faux Marble
Granite Tile
Limestone Tile
Marble Tile Flooring
Mosaic Stone
Natural Stone
Onyx Tile
Sandstone Tile
Slate Flooring
Travertine Tile
Trims & Moldings
Tumbledstone

---

Vinyl/Resilient

Adhesive Backed Tile
Asphalt Tile
Cove Base (rubber)
Cove Base (vinyl)
Homogeneous Vinyl Floors
Inlaid Vinyl (sheet)
Inlaid Vinyl Tile
Linoleum Flooring
Resilient/Vinyl Flooring
Rubber Flooring
Rubber Sheet Flooring
Rubber Tile Floors
Vinyl Composition Tile (VCT)

---

Cleaning/Restoration

Bathtub/Shower Remodeling
Cleaning (carpet)
Cleaning (rug)
Cleaning/Restoration
Cleansers (carpet & rug)
Cleansers (ceramic tile)
Cleansers (general purpose)
Cleansers (grout)
Cleansers (marble)
Cleansers (natural stone)
Cleansers (spot & stain removal)
Cleansers (vinyl floor)
Cleansers (wood floor)
Polish/Wax

---

Area Rugs

Accent Rugs
Animal Print / Wildlife Rugs
Antique Rugs (Reproductions)
Area Rugs
Botanicals / Florals Rugs
Braided Rugs
Custom Rugs
Hand-Carved Rugs
Hand-Made Rugs
Hand-Tufted Rugs
Juvenile / Kid Rugs
Machine Made Rugs
Modern / Contemporary Rugs
Oriental Rugs
Rug Runners
Shag Rugs
Traditional Rugs
Transitional Rugs
Wool Rugs

---

Specialty Floors

Flooring
Slip Resistant Flooring
Specialty Floors

---

Paver/Quarry

Glass Tile
Metal Tile
Paver (brick)
Paver (cobble stone)
Paver (interlocking)
Paver/Quarry Tile
Quarry Tile (chemical resistant)
Quarry Tile (glazed)
Quarry Tile (unglazed)
Slip-Resistant Tile

---

Tools

Adhesive Application Tools
Carpet (stretching tools)
Carpet Irons
Chalk Line Reels
Cutters (ceramic tile)
Floats
Installation Tools (carpet)
Installation Tools (ceramic/stone)
Installation Tools (resilient/vinyl)
Installation Tools (wood/laminate)
Knives (carpet)
Knives (utility)
Moisture Meters
Nailers & Tackers
Removal Tools (hand scrapers)
Removal Tools (tile)
Tools
Trimmers (carpet)
Trimmers (wall)
Trowels
Tuckers (carpet)
Tuckers (stair carpet)

---

Sealers/Finishes

Sealers (wood floor)
Treatments (carpet)
Wood Finish (polyurethane moisture cure)
Wood Floor Stains

---

Underlayment

Cork
Foam
Laminate Floor Underlayment
Leverers/Fillers
Panel Board
Rug Underlayments
Self Leveling
Stress/Crack Suppression
Underlayment

---

Cushion/Padding

Bonded
Combination
Cushion/Padding
Double Glue
Rubber
Synthetic Fiber
Urethane

---

Wood Flooring

Acrylic Impregnated
Antique Wood Flooring
Bamboo Flooring
Borders/Accents
Cork Flooring
Cork Plank Flooring
Cork Tile Flooring
Corners/Inlays
Crests/Medallions
Custom Wood Floors
Distressed Wood Flooring
Engineered Longstrip
Engineered Parquet
Engineered Plank Flooring
Engineered Wood Flooring
Exotic Hardwood Flooring
Hand Scraped Wood Floors
Hardwood Flooring
Hardwood Plank Flooring
Hardwood Strip Flooring
Parquet Flooring
Parquet Flooring
Prefinished Engineered Parquet
Prefinished Engineered Plank
Prefinished Solid Parquet
Prefinished Solid Plank
Prefinished Strip Flooring
Random Width Plank
Solid Plank Flooring
Trims/Moldings
Unfinished Engineered Parquet
Unfinished Engineered Plank
Unfinished Solid Parquet
Unfinished Solid Plank
Unfinished Strip Flooring
Wide Plank Flooring
Wood Flooring

---

Fibers/Backing

Anti Microbials
Backing (primary)
Backing (secondary)
Backing (systems)
Fibers/Backings
Latex

---

Mats/Runners

Anti Fatigue
Carpet Mats
Children/Juvenile Mats
Entrance Mats
Industrial Mats
Logo/Image Mats
Mats/Runners
Recess Mats
Rubber Mats
Runners (carpet)
Runners (vinyl)
Safety Mats
Speciality Mats

---

Countertop/Surfaces

Ceramic Tile Countertops
Countertops
Decorative Surfaces
Granite Countertops
Laminate
Laminate Countertops
Marble Counter Tops

---

LVT/LVP

Luxury Vinyl Plank Flooring
Luxury Vinyl Sheet Flooring
Luxury Vinyl Tile

---

Walls

Wall Tile (glazed)
Wall Tile (unglazed)
---
---