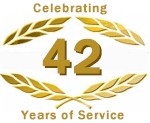 L & P Carpet Inc
L&P Carpet, Inc is a leader in providing residential and commercial floor covering services. Established in 1977, proves Its worth talking to the experts.Serving Anna, IL since 1977
L & P Carpet Inc
4155 East Vienna
,
IL
62906
Tel:618-833-8913
Fax:618-833-7545
Contacts:
Pamela Rendleman(Accountant/Sales / Office); Trish Cox(Accounts Payable/ Commercial Accounts Receivable); James Rendleman(Residential Sales Estimator/Manager); Kevin Cox(Commercial Sales Estimator/ Project Manager); Tony Smith(Residential Sales); Barb Jacobs; Donna Shadowens
---
---
About:
L&P Carpet Inc., your top source for hardwood flooring, ceramic tile, carpet, laminate, and more in Carbondale, Murphysboro, and Metropolis. Shop our selection for the lowest prices.
---
Types Of Flooring We Carry:
Flooring Accessories, Adhesives, Athletic Surfaces, Carpeting, Ceramic and Porcelain, Equipment, Installation Materials, Laminate Flooring, Natural Stone Floors, Vinyl and Resilient, Cleaning and Restoration, Area Rugs, Specialty Floors, Paver and Quarry, Tools, Underlayment, Cushion and Padding, Wood Flooring, LVT and LVP, Walls
---
L & P Carpet Inc offers the following flooring brands:
---
L & P Carpet Inc offers the following products:
---

Flooring Accessories

Air Vents / Registers
Carpet Accessories
Ceramic Accessories
Flooring Accessories
Furniture Slides
Laminate Accessories
Moulding (laminate)
Moulding (wood)
Rug Accessories
Stair Treads/Nosing (metal)
Stair Treads/Nosing (rubber)
Stair Treads/Nosing (vinyl)
Tile Trims
Trim (metal)
Trim (rubber)
Trim (vinyl)
Underfloor Heating
Wood Accessories

---

Adhesives

Adhesives
Carpet Adhesives
Ceramic Tile Adhesives
Cove Base Adhesives
Epoxy Adhesives
Indoor/Outdoor Carpet Adhesives
Laminate Floor Adhesives
Linoleum Adhesives
Seam Adhesives
Stair Tread & Nosing Adhesives

---

Athletic Surfaces

Athletic Surfaces
Basketball Court Surfaces

---

Carpeting

Berber Carpet
Carpet Base
Carpeting
Commercial (tufted)
Commercial Carpet
Commercial Cut Pile
Commercial Cut Pile (pattern)
Commercial Cut Pile (texture)
Commercial Cut/Uncut
Commercial Cut/Uncut (pattern)
Commercial Cut/Uncut (texture)
Commercial Loop Pile
Commercial Loop Pile (pattern)
Commercial Loop Pile (texture)
Commercial Printed Carpet
Indoor/Outdoor Carpet

---

Ceramic/Porcelain

Bathroom Tile
Borders/Medallions
Ceramic Tile
Custom Tiles
Decorative Tile
Floor Tile (glazed)
Floor Tile (unglazed)
Kitchen Tile
Mosaic Tile
Mosaic Tile (glass)
Mosaic Tile (glazed)
Mosaic Tile (unglazed)
Porcelain Tile
Spa / Pool Tile
Terra Cotta Floor Tile

---

Equipment

Cutting Equipment
Cutting Equipment (carpet)
Cutting Equipment (ceramic tile)
Cutting Equipment (sheet vinyl)
Floor Removal Equipment
Sanding Equipment
Wax & Finish Applicators

---

Installation Materials

Abrasives
Additives
Additives (latex)
Additives (mortar)
Additives (thin set)
Caulks
Grouts (acid & alkali proof/resistant)
Grouts (additives)
Grouts (ceramic tile)
Grouts (granite)
Grouts (latex)
Grouts (marble)
Grouts (quarry tile)
Grouts (sealers)
Grouts (slate)
Installation Materials
Mortars
Mortars (thin set)
Nails (speciality)
Seam Sealers
Seaming Tapes (hot melt)
Tackless Carpet Strip
Tile Setting Materials
Tile Spacers & Templates
Wood Fillers/Patches

---

Laminate Flooring

Laminate Flooring
Laminate Flooring Planks
Laminate Flooring Tile

---

Natural Stone Floors

Granite Tile
Marble Tile Flooring
Mosaic Stone
Natural Stone
Slate Flooring
Trims & Moldings

---

Vinyl/Resilient

Cove Base (rubber)
Cove Base (vinyl)
Homogeneous Vinyl Floors
Inlaid Vinyl (sheet)
Inlaid Vinyl Tile
Linoleum Flooring
Resilient/Vinyl Flooring
Rubber Flooring
Rubber Sheet Flooring
Rubber Tile Floors
Vinyl Composition Tile (VCT)

---

Cleaning/Restoration

Cleaning/Maintenance Kits
Cleaning/Restoration
Cleansers (ceramic tile)
Cleansers (general purpose)
Cleansers (grout)
Cleansers (vinyl floor)
Cleansers (wood floor)
Floor Protection (disc pads)
Floor Protection (runners)
Polish/Wax

---

Area Rugs

Accent Rugs
Animal Print / Wildlife Rugs
Area Rugs
Modern / Contemporary Rugs
Rug Runners

---

Specialty Floors

Slip Resistant Flooring
Specialty Floors

---

Paver/Quarry

Glass Tile
Metal Tile
Paver (brick)
Paver/Quarry Tile
Quarry Tile (glazed)
Quarry Tile (unglazed)
Slip-Resistant Tile

---

Tools

Adhesive Application Tools
Blades, Grinding Wheels, Rubbing Stones
Carpet (stretching tools)
Carpet Irons
Carpet Needles
Carver Heads
Chalk Line Reels
Chisels (ceramic tile)
Cutters (ceramic tile hole)
Cutters (ceramic tile)
Cutters (cove base)
Cutters (cushion back carpet)
Cutters (cut pile carpet)
Cutters (loop pile carpet)
Cutters (metal)
Cutters (portable carpet)
Cutters (resilient floor)
Cutters (resilient tile)
Cutters (seam cutting)
Drills, Drill Bits
Driving Bars
Estimating
Floats
Glue Guns
Grooving Tools
Hammers (carpet)
Hammers (ceramic tile)
Installation Tools (carpet)
Installation Tools (ceramic/stone)
Installation Tools (resilient/vinyl)
Installation Tools (wood/laminate)
Knee Pads
Knives (carpet)
Knives (combination)
Knives (utility)
Knives (wall)
Miter Boxes
Nailers & Tackers
Points & Chisels
Polishing Hand Tools
Pry Bar
Removal Tools
Removal Tools (carpet)
Removal Tools (hand scrapers)
Removal Tools (tile)
Rollers
Saws (ceramic tile)
Scribers/Dividers
Seaming Irons
Spreaders
Staplers/Staples
Straight Edges
Tackless Carpet Strip Tools
Testing Kits (moisture)
Tools Pouches
Trimmers (carpet)
Trimmers (edge)
Trimmers (resilient)
Trimmers (wall)
Trowels
Tuckers (carpet)
Tuckers (stair carpet)
Tufting Guns

---

Underlayment

Cement
Floor Radiant Heating
Foam
Laminate Floor Underlayment
Leverers/Fillers
Rug Underlayments
Self Leveling
Sound Deadening
Stress/Crack Suppression
Underlayment

---

Cushion/Padding

Bonded
Cushion/Padding
Rubber

---

Wood Flooring

Bamboo Flooring
Cork Flooring
Cork Plank Flooring
Cork Tile Flooring
Engineered Longstrip
Engineered Plank Flooring
Engineered Wood Flooring
Exotic Hardwood Flooring
Prefinished Engineered Parquet
Prefinished Solid Parquet
Prefinished Solid Plank
Prefinished Strip Flooring
Solid Plank Flooring
Trims/Moldings
Unfinished Engineered Plank
Unfinished Solid Plank
Wood Flooring

---

LVT/LVP

Luxury Vinyl Plank Flooring
Luxury Vinyl Sheet Flooring
Luxury Vinyl Tile

---

Walls

Wall Tile (glazed)
Wall Tile (unglazed)
---
Commercial Markets We Service:
Builder, Residential, Educational, School, Medical, Healthcare
---
Commercial Experience:
college, university, elementary, middle, high school, courthouses, government offices, penitentiarys, police stations, dormitory, fraternity, sorority, hotels, nursing home, assisted living, residential care, retirement homes, bank, bowling alleys, funeral home, health clubs, theaters, cinemas, clinic, dentist's offices, doctor's offices, hospital, outpatient rehabilitation, veterinarian's office, bars, fast food chains
---
Why Us:
Locally Owned and Operated, Commercial & Residential, Expert Advise, Courteous; Reliable Service, Staffed Showroom, Convenient Location, Fully Licensed & Insured, Reasonable Prices, Customer Service, Years of Service, Shop At Home Service, Financing Available, Free Estimates, Our Warranty, and more...
---
Professional References:
,
Floor Covering Industry Foundation (FCIF), Floor Covering Installation Contractors Association (FCICA)
---
---