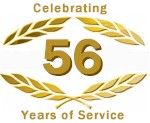 Hopkins Floor Company
Serving Festus, MO since 1963
Hopkins Floor Company
2323 Highway 67
,
MO
63028
Tel:636-937-2400
Fax:636-931-0910
Toll Free:1-888-638-9876
---
---
About:
We have been a family owned business since 1963, catering to your wants and needs through our knowledgable sales staff and professionally trained installers. We strive to provide that personal touch that larger box store chains can't deliver.
---
Types Of Flooring We Carry:
Flooring Accessories, Adhesives, Athletic Surfaces, Business Services, Carpeting, Ceramic and Porcelain, Installation Materials, Laminate Flooring, Natural Stone Floors, Vinyl and Resilient, Area Rugs, Specialty Floors, Paver and Quarry, Tools, Underlayment, Cushion and Padding, Wood Flooring, LVT and LVP, Walls
---
Hopkins Floor Company offers the following flooring brands:
---
Hopkins Floor Company offers the following products:
---

Flooring Accessories

Air Vents / Registers
Binding, Fringe, Tape
Ceramic Accessories
Flooring Tools
Laminate Accessories
Moulding (laminate)
Moulding (wood)
Shower/Pans/Liners/Drains
Stair Rods
Stair Treads/Nosing (metal)
Stair Treads/Nosing (rubber)
Stair Treads/Nosing (vinyl)
Tile Trims
Trim (metal)
Trim (rubber)
Trim (vinyl)
Underfloor Heating

---

Adhesives

Adhesive Remover Chemicals
Adhesives
Aerosol Adhesives
Below-Grade Adhesives
Carpet Adhesives
Ceramic Tile Adhesives
Ceramic Tile Exterior
Cove Base Adhesives
Cushion-Back Carpet Adhesives
Double Glue Cushion Adhesives
Dry Adhesives
Epoxy Adhesives
Indoor/Outdoor Carpet Adhesives
Laminate Floor Adhesives
Linoleum Adhesives
Marble Tile Adhesives
Multi-Purpose Adhesives
Pad Adhesives
Releasable (Pressure Sensitive)
Resilient Floors Adhesives
Rubber Flooring Adhesives
Seam Adhesives
Stair Tread & Nosing Adhesives
Tackless Strip Adhesives
Wood Adhesives

---

Athletic Surfaces

Athletic Surfaces

---

Business Services

Estimating

---

Carpeting

Automotive Carpeting
Berber Carpet
Carpet Base
Carpeting
Children/Juvenile Carpet
Commercial (tufted)
Commercial (woven)
Commercial Carpet
Commercial Cut Pile
Commercial Cut Pile (pattern)
Commercial Cut Pile (texture)
Commercial Cut/Uncut
Commercial Cut/Uncut (pattern)
Commercial Cut/Uncut (texture)
Commercial Loop Pile
Commercial Loop Pile (pattern)
Commercial Loop Pile (texture)
Commercial Printed Carpet
Cushion Back Carpeting
Custom Carpet
Indoor/Outdoor Carpet
Modular Carpet Tile
Patterned Carpet
Recycled
Saxony (plush)
Saxony (textured)
Sculptured/Cut & Loop
Shag Carpet
Spike Resistant Carpet
Synthetic Turf
Wool Carpets

---

Ceramic/Porcelain

Bathroom Tile
Borders/Medallions
Ceramic Tile
Custom Tiles
Decorative Tile
Floor Tile (glazed)
Floor Tile (unglazed)
Handpainted/Art Tile
Hard Surface / Tile / Stone
Kitchen Tile
Mexican Tile (Saltillo)
Mosaic Tile
Mosaic Tile (glass)
Mosaic Tile (glazed)
Mosaic Tile (unglazed)
Murals
Porcelain Tile
Spa / Pool Tile
Terra Cotta Floor Tile

---

Installation Materials

Additives (latex)
Caulks
Grouts (additives)
Grouts (ceramic tile)
Grouts (granite)
Grouts (latex)
Grouts (marble)
Grouts (quarry tile)
Grouts (sealers)
Installation Materials
Mortars
Mortars (thin set)
Seam Sealers
Seaming Tapes (hot melt)
Tackless Carpet Strip
Tile Setting Materials
Tile Spacers & Templates
Wood Fillers/Patches

---

Laminate Flooring

Laminate Flooring
Laminate Flooring Planks
Laminate Flooring Tile

---

Natural Stone Floors

Granite Tile
Marble Tile Flooring
Mosaic Stone
Natural Stone
Travertine Tile
Tumbledstone

---

Vinyl/Resilient

Cove Base (rubber)
Cove Base (vinyl)
Linoleum Flooring
Resilient/Vinyl Flooring
Rubber Flooring
Vinyl Composition Tile (VCT)

---

Area Rugs

Accent Rugs
Animal Print / Wildlife Rugs
Area Rugs
Aubusson Rugs
Botanicals / Florals Rugs
Custom Rugs
Flat Woven
Hand-Made Rugs
Hand-Tufted Rugs
Hooked Rugs
Indoor-Outdoor Rugs
Jute Rugs
Juvenile / Kid Rugs
Modern / Contemporary Rugs
Moroccan Rugs
Motifs / Novelty Rugs
Natural Fiber Rugs
Round Rugs
Rug Runners
Shag Rugs
Tibetan/Nepalese
Traditional Rugs
Transitional Rugs
Wool Rugs

---

Specialty Floors

Flooring
Slip Resistant Flooring
Specialty Floors

---

Paver/Quarry

Glass Tile
Metal Tile
Paver/Quarry Tile
Quarry Tile (unglazed)
Slip-Resistant Tile

---

Tools

Carpet (stretching tools)
Carpet Irons
Chalk Line Reels
Cutters (ceramic tile)
Cutters (cove base)
Floats
Installation Tools (carpet)
Installation Tools (ceramic/stone)
Installation Tools (resilient/vinyl)
Installation Tools (wood/laminate)
Knee Pads
Knives (carpet)
Removal Tools (hand scrapers)
Rollers
Saws (ceramic tile)
Seaming Irons
Staplers/Staples
Straight Edges
Testing Kits (moisture)
Trimmers (carpet)
Trowels

---

Underlayment

Cement
Floor Radiant Heating
Laminate Floor Underlayment
Leverers/Fillers
Rug Underlayments
Self Leveling
Sound Deadening
Underlayment

---

Cushion/Padding

Cushion/Padding
Double Glue
Rubber
Synthetic Fiber

---

Wood Flooring

Bamboo Flooring
Borders/Accents
Cork Tile Flooring
Crests/Medallions
Custom Wood Floors
Engineered Plank Flooring
Engineered Wood Flooring
Exotic Hardwood Flooring
Hand Scraped Wood Floors
Prefinished Engineered Plank
Prefinished Solid Plank
Prefinished Strip Flooring
Solid Plank Flooring
Trims/Moldings
Unfinished Engineered Plank
Unfinished Solid Plank
Unfinished Strip Flooring
Wide Plank Flooring
Wood Flooring

---

LVT/LVP

Luxury Vinyl Plank Flooring
Luxury Vinyl Tile

---

Walls

Wall Tile (glazed)
Wall Tile (unglazed)
---
Commercial Markets We Service:
Builder, Residential, Educational, School, Food Sales, Government, GSA, Hospitality, Lodging, Institutional, Public, Medical, Healthcare, Multi Family, Housing, Office, Tenant, Religious Worship, Restaurants, Retail, Mercantile, Service Buildings, Warehouse, Storage
---
Why Us:
Locally Owned and Operated, Commercial & Residential, Expert Advise, Professional Staff, Courteous; Reliable Service, Staffed Showroom, Convenient Location, Fully Licensed & Insured, All In-House Craftsmen, Customer Service, Years of Service, Shop At Home Service, Hundreds of Colors & Styles, Huge Inventory, Financing Available, Free Estimates, Great Selection, Our Warranty, and more...
---
---
---