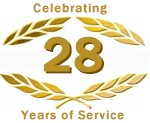 DJ's Flooring
DJ's Flooring has been in the flooring business since 1991. We are the area's ONLY flooring specialist! We sell and install all types of flooring. Serving Hopkinsville, KY since 1991
DJ's Flooring
2406 Fort Campbell Boulevard
,
KY
42240
Tel:270-885-7319
Fax:270-885-7934
Contacts:
Daniel Conner(Owner); Betty Ferrell(Office Manager); Jennifer Wilson(Sales Manager); Shay Lovan(Sales)
---
---
About:
Carpet, sheet vinyl (linoleum), vinyl tile, luxury vinyl tile, hardwood, laminate, area rugs, oriental and contemporary rugs, porcelain and ceramic tile. We do residential, commercial, industrial and healthcare flooring.
---
Types Of Flooring We Carry:
Flooring Accessories, Adhesives, Athletic Surfaces, Business Services, Carpeting, Ceramic and Porcelain, Equipment, Installation Materials, Laminate Flooring, Natural Stone Floors, Vinyl and Resilient, Cleaning and Restoration, Area Rugs, Specialty Floors, Terrazzo, Paver and Quarry, Tools, Sealers and Finishes, Underlayment, Cushion and Padding, Wood Flooring, Mats and Runners, Countertop and Surfaces, Paint Accessories, LVT and LVP, Walls
---
DJ's Flooring offers the following flooring brands:
---
DJ's Flooring offers the following products:
---

Flooring Accessories

Binding, Fringe, Tape
Borders - Carpet/Rug
Carpet Accessories
Ceramic Accessories
Decorative Hardware
Dividers (brass/zinc)
Flooring Accessories
Flooring Tools
Furniture Slides
Furniture Slides
Laminate Accessories
Moulding (laminate)
Moulding (wood)
Resilient Accessories
Rug Accessories
Stair Rods
Stair Treads/Nosing (metal)
Stair Treads/Nosing (rubber)
Stair Treads/Nosing (vinyl)
Stone Accessories
Tile Trims
Trim (metal)
Trim (rubber)
Trim (vinyl)
Underfloor Heating
Wood Accessories

---

Adhesives

Adhesive Remover Chemicals
Adhesives
Aerosol Adhesives
Below-Grade Adhesives
Carpet Adhesives
Ceramic Tile Adhesives
Ceramic Tile Exterior
Cove Base Adhesives
Cushion-Back Carpet Adhesives
Double Glue Cushion Adhesives
Dry Adhesives
Epoxy Adhesives
Indoor/Outdoor Carpet Adhesives
Linoleum Adhesives
Marble Tile Adhesives
Multi-Purpose Adhesives
Pad Adhesives
Releasable (Pressure Sensitive)
Resilient Floors Adhesives
Rubber Flooring Adhesives
Seam Adhesives
Stair Tread & Nosing Adhesives
Tackless Strip Adhesives
Wood Adhesives

---

Athletic Surfaces

Athletic Surfaces
Baseball/Softball Surfaces
Basketball Court Surfaces
Gym/Fitness Center
Multi-Purpose Court Surfaces
Synthetic Grass Surfaces

---

Business Services

Estimating

---

Carpeting

Berber Carpet
Carpet Base
Carpeting
Children/Juvenile Carpet
Commercial (tufted)
Commercial Carpet
Commercial Cut Pile
Commercial Cut Pile (pattern)
Commercial Cut Pile (texture)
Commercial Cut/Uncut
Commercial Cut/Uncut (pattern)
Commercial Cut/Uncut (texture)
Commercial Loop Pile
Commercial Loop Pile (pattern)
Commercial Loop Pile (texture)
Commercial Printed Carpet
Cushion Back Carpeting
Indoor/Outdoor Carpet
Modular Carpet Tile
Patterned Carpet
Recycled
Saxony (plush)
Saxony (textured)
Sculptured/Cut & Loop
Shag Carpet
Spike Resistant Carpet
Synthetic Turf
Velvet (woven)

---

Ceramic/Porcelain

Bathroom Tile
Borders/Medallions
Ceramic Tile
Custom Tiles
Decorative Tile
Floor Tile
Floor Tile (glazed)
Floor Tile (unglazed)
Hand-Made / Handcrafted Tile
Handpainted/Art Tile
Hard Surface / Tile / Stone
Kitchen Tile
Mexican Tile (Saltillo)
Mosaic Tile
Mosaic Tile (glass)
Mosaic Tile (glazed)
Mosaic Tile (unglazed)
Murals
Porcelain Tile
Spa / Pool Tile

---

Equipment

Binding Machines
Cutting Equipment
Cutting Equipment (carpet base)
Cutting Equipment (carpet)
Cutting Equipment (ceramic tile)
Cutting Equipment (sheet vinyl)
Finishing Equipment (carpet)
Finishing Equipment (wood)
Floor Removal Equipment
Furniture Slides

---

Installation Materials

Abrasives
Additives
Additives (latex)
Additives (thin set)
Caulks
Grouts (acid & alkali proof/resistant)
Grouts (additives)
Grouts (ceramic tile)
Grouts (granite)
Grouts (latex)
Grouts (marble)
Grouts (quarry tile)
Grouts (release)
Grouts (sealers)
Grouts (slate)
Installation Materials
Mortars (thin set)
Nails (speciality)
Seam Sealers
Seaming Tapes (hot melt)
Tackless Carpet Strip
Tile Setting Materials
Tile Spacers & Templates
Wood Fillers/Patches

---

Laminate Flooring

Laminate Flooring
Laminate Flooring Blocks
Laminate Flooring Planks
Laminate Flooring Tile

---

Natural Stone Floors

Cultured/Faux Marble
Granite Tile
Marble Tile Flooring
Mosaic Stone
Natural Stone
Quartzite Tile
Slate Flooring
Travertine Tile
Trims & Moldings
Tumbledstone

---

Vinyl/Resilient

Cove Base (rubber)
Cove Base (vinyl)
Homogeneous Vinyl Floors
Inlaid Vinyl (sheet)
Inlaid Vinyl Tile
Linoleum Flooring
Resilient/Vinyl Flooring
Rubber Flooring
Rubber Sheet Flooring
Rubber Tile Floors
Vinyl Composition Tile (VCT)

---

Cleaning/Restoration

Cleaning/Maintenance Kits
Cleansers (carpet & rug)
Cleansers (ceramic tile)
Cleansers (general purpose)
Cleansers (grout)
Cleansers (marble)
Cleansers (natural stone)
Cleansers (spot & stain removal)
Cleansers (terrazzo floor)
Cleansers (vinyl floor)
Cleansers (wood floor)
Floor Protection (disc pads)
Floor Protection (runners)
Polish/Wax

---

Area Rugs

Accent Rugs
Animal Print / Wildlife Rugs
Antique Rugs (Reproductions)
Area Rugs
Custom Rugs
Hand-Carved Rugs
Leather Rugs
Machine Made Rugs
Modern / Contemporary Rugs
Motifs / Novelty Rugs
Oriental Rugs
Rug Runners
Southwestern Rugs
Wool Rugs

---

Specialty Floors

Floor Heating System
Flooring
Slip Resistant Flooring
Specialty Floors
Static Control Flooring
Static Dissipative
Static-Resistant Flooring
Tile Flooring

---

Terrazzo

Terrazzo
Terrazzo Tile
Thinset Terrazzo

---

Paver/Quarry

Glass Tile
Metal Tile
Paver/Quarry Tile
Quarry Tile (chemical resistant)
Quarry Tile (glazed)
Quarry Tile (unglazed)
Slip-Resistant Tile

---

Tools

Adhesive Application Tools
Base Moulding Lifters
Blades, Grinding Wheels, Rubbing Stones
Carpet (stretching tools)
Carpet Irons
Carpet Needles
Chalk Line Reels
Cutters (ceramic tile hole)
Cutters (ceramic tile)
Cutters (cove base)
Cutters (cushion back carpet)
Cutters (cut pile carpet)
Cutters (loop pile carpet)
Cutters (portable carpet)
Cutters (resilient floor)
Cutters (resilient tile)
Cutters (seam cutting)
Driving Bars
Estimating
Floats
Furniture Slides
Glue Guns
Hammers
Hammers (carpet)
Hammers (ceramic tile)
Installation Tools (carpet)
Installation Tools (ceramic/stone)
Installation Tools (resilient/vinyl)
Installation Tools (wood/laminate)
Knee Pads
Knives (carpet)
Knives (combination)
Knives (utility)
Levels
Measuring
Miter Boxes
Nailers & Tackers
Points & Chisels
Pry Bar
Removal Tools
Removal Tools (carpet)
Removal Tools (hand scrapers)
Removal Tools (tile)
Rollers
Saws
Saws (ceramic tile)
Scribers/Dividers
Seaming Irons
Spreaders
Staplers/Staples
Straight Edges
Tackless Carpet Strip Tools
Testing Kits (moisture)
Tools
Tools Pouches
Trimmers (carpet)
Trimmers (edge)
Trimmers (resilient)
Trimmers (wall)
Trowels

---

Sealers/Finishes

Sealers (wood floor)
Treatments (carpet)

---

Underlayment

Cork
Floor Radiant Heating
Foam
Laminate Floor Underlayment
Rug Underlayments
Self Leveling
Sound Deadening

---

Cushion/Padding

Bonded
Combination
Cushion/Padding
Double Glue
Polymeric
Rubber
Synthetic Fiber
Urethane

---

Wood Flooring

Acrylic Impregnated
Bamboo Flooring
Borders/Accents
Cork Flooring
Cork Plank Flooring
Cork Tile Flooring
Corners/Inlays
Crests/Medallions
Custom Wood Floors
Distressed Wood Flooring
Engineered Longstrip
Engineered Plank Flooring
Engineered Wood Flooring
Exotic Hardwood Flooring
Hand Scraped Wood Floors
Hardwood Flooring
Hardwood Plank Flooring
Hardwood Strip Flooring
Prefinished Engineered Plank
Prefinished Solid Parquet
Prefinished Solid Plank
Prefinished Strip Flooring
Random Width Plank
Solid Plank Flooring
Trims/Moldings
Unfinished Engineered Plank
Unfinished Solid Plank
Unfinished Strip Flooring
Wide Plank Flooring
Wood Flooring
Wood Tile

---

Mats/Runners

Carpet Mats
Gym/Sports Mats
Link Mats
Logo/Image Mats
Mats/Runners
Rubber Mats
Runners (carpet)

---

Countertop/Surfaces

Ceramic Tile Countertops
Countertops
Decorative Surfaces
Engineered Stone Countertops
Laminate
Laminate Countertops

---

Paint Accessories

Wood Fillers

---

LVT/LVP

Luxury Vinyl Plank Flooring
Luxury Vinyl Sheet Flooring
Luxury Vinyl Tile

---

Walls

Wall Tile (glazed)
Wall Tile (unglazed)
---
Commercial Markets We Service:
Builder, Residential, Educational, School, Food Sales, Government, GSA, Hospitality, Lodging, Institutional, Public, Medical, Healthcare, Multi Family, Housing, Office, Tenant, Religious Worship, Restaurants, Retail, Mercantile, Service Buildings, Warehouse, Storage
---
Commercial Experience:
elementary, middle, high school, preschool, daycare, courthouses, fire stations, government offices, police stations, post office, postal center, probation offices, convent, monastery, half-way house, night clubs, nursing home, assisted living, residential care, retirement homes, shelters, orphanages, children's homes, bank, broadcasting studio, convention centers, funeral home, library, meeting halls, museum, other financial institution, social meeting centers, theaters, cinemas, clinic, dentist's offices, doctor's offices, hospital, outpatient rehabilitation, veterinarian's office, administrative offices, professional offices, bars, cafeterias, restaurants, alcoholic beverage store, auto repair shop, auto service, barber shop, beauty parlor, bookstore stores, car dealership, showroom, car wash, clothing stores, convenience stores, department stores, dry cleaner, enclosed mall, furniture stores, gas stations, grocery store, food market, hardware stores, laundromat, rental stores, strip shopping center
---
Why Us:
Largest in stock selection in area, Professional Staff, Courteous, Reliable Service, Professional Installation, Residential & Commercial, Locally Owned and Operated, Factory Direct Pricing, Expert Advise, Convenient Location, Years of Service, On-Time Delivery, Financing Available, Our Warranty, and more...
---
---
---